[the gathering…the chewing]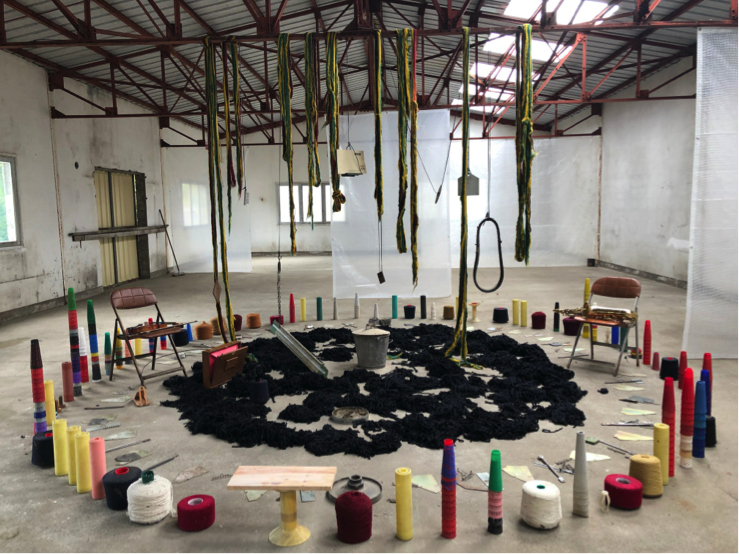 Re-so[u]rceries and Re-sonations at Treignac Projet
Wednesday 13 August – Friday 15 August
exhibition15August - 13 September
[the gathering…the chewing] is a live event-space created by UK-based artist-improvisors Gillian Whiteley and Geoff Bright that works with two intermingled hemispheres: Re-so[u]rceries and Re-sonations.
Re-so[u]rceries sets up a productive collision between sorcery and source materials brought together in a durational site-based practice. Re-sonations is primarily a sonic performance that chews up concepts, words, imagery, texts and clashing idioms from militant free jazz, through incantatory folk to misophonic repetition.
From Wednesday 13 to Friday 15 August, [the gathering…the chewing] will be immersed in the multiple materialities, sonic possibilities and organic environment of the Treignac Projet, creating a site-specific response of live micro-performances on saxophones, melodeon, violin, shruti-box, voice and found materials during Friday 15 August 2019.
*
Re-so[u]rceries and Re-sonations at Treignac Projet
Three micro-performances Friday 15 August 2019
An installation and a series of live improvised performances produced solely from materials and text found within the Treignac Projet site which was a hospice and chapel in the 16th century, a textile mill from the early 20th century and, finally, before closure in the 1990s, a knitting-machine assembly factory.
15.30hrs (duration 10 mins) Mouvement et commande varirateur: Circlips 10E
16.30hrs (duration 5 mins) Amplification: Rondelle Z8 U
17.30hrs (duration 30 mins) Ensemble de memoire